chapbook preview FALL 2023.…
I've been writing poems since third grade, but have complied my first chapbook this year. Updates coming when it's available online and hard copies!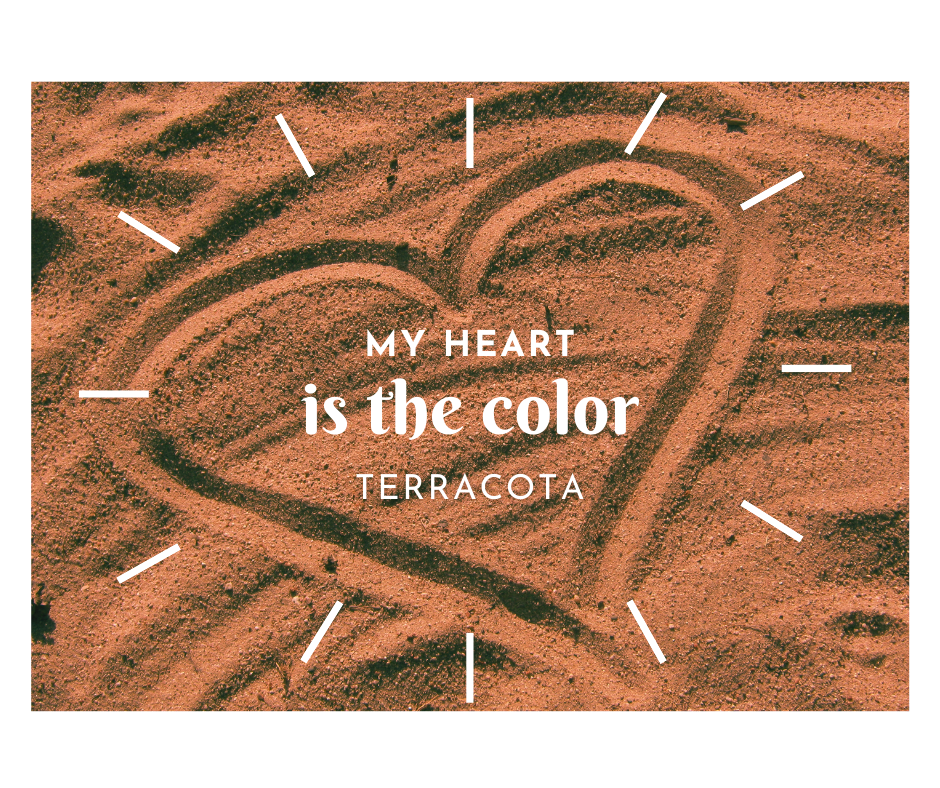 My Heart is the Color Terracotta
My heart
is the color
terracotta.
Lacey, iridescent ribbons
running through,
it breaks and crumbles
so easily.
Only fire reanimates;
a burning down
to build back up;
holding and giving way,
holding, cracking, giving way,
burn, build; holding
translucent green
beginnings.
Summer is Dying
I know summer is dying and I
think it knows too. 
The light, early morning to late 
evening seems absent minded in its persistence.
I sense confusion all around the
roses, vines, and declining grasses
dropping into brittle browns, resting 
lifeless leaves in haphazard
patterns on dry soil beds.
We know it´s time. 
The late sunsets gaze distractedly 
past me, performing for an
audience they no longer
recognize.
Oh summer! I whisper;
You can go.
Wander slowly into
gentler temperatures, blurring
edges — I won't forget you!
Just under my skin, its
warmth; borrowed energy
from distant suns 
makes me dream
yellow.
I Think
I think he still knows strawberries are
red and lemons are sour.
Tell me your name, he says, and I am
daughter, mother, grandchild.
Even clouds disappear, I think, though 
they fill up the horizon.
Look at the sky! Are we seeing 
the same thing or is the fabric
of knowing stretched and tearing?
It isn't that easy, I think, and we both wonder,
Why are you doing this?
The Basement 
On the third step, 
I lowered myself into cave coolness. 
Dirt and disuse  
a mother's lap to  
stare from.
Obsolescence, silence; 
domestic life once  
removed. 
I didn't expect 
to feel so at 
home. 
Crosswalk 
Next to the tin can bouquets  
and makeshift crosses, 
they installed a crosswalk with  
blinking lights. 
All of us, 
with our busy days, 
speeding and swerving  
can't pay attention;
even notice 
an elderly gentleman 
under the yellow flashes;
faint but insistent in the morning angle 
of the sun,
his white comb-over fluttering limply — 
a forgotten handkerchief on a  
clothesline. 
But today,  
swooping down the hill 
I see the illumination;
functional  
for the first time.
Straight ahead, 
coming swiftly toward me,
the oversized truck signaling right, 
a small blue car behind hooking  
anxiously around, heading toward the  
center
where the faded figure 
advances slowly
with vacant eyes towards the 
little altars 
on the other side  
of the street. 
The driver of the blue car 
with her busy day, 
speeding and swerving
can't pay attention; 
even notice,
but a piercing horn 
pulsing under my palm calls, 
Attention! 
all of us, 
with our busy days, 
our speeding and swerving —
Pay attention!
Suddenly,  
we notice each other 
in this moment  
of our fragile existence 
together.