EPK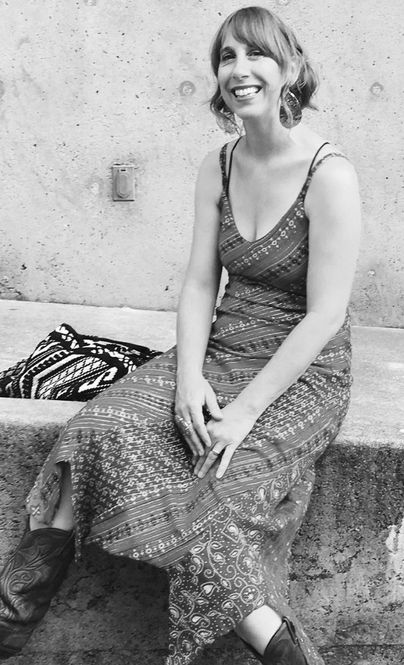 "…a throaty, sultry mix of pop, jazz and soul…" Chico News & Review, 2010
"…Brown's singing voice is singularly heartfelt and soulful, delivering her original lyrics with moving emotional honesty." Chico News & Review, 2007
"I hear a lot of musicians... some people can write, some people can play,  (Karen) seems to be the whole package…. a beautiful voice, beautiful songs." KZFR -Terre Reynolds 2005
 i n f o @ k a r e n j o y b r o w n . c o m
 
---
About the Artist
Karen Joy Brown's elegantly sparse acoustic pop/jazz/Americana guitar and deeply soulful voice express heartfelt emotion that inspires reflection and connection in listeners. Her songwriting reveals a poet's soul captivated by the spiritual challenges, lessons, and bliss inherent in human experience. The powerful combination of well-crafted lyrics and an enchanting vocal delivery reach out to befriend and uplift with her singular sense of rhythm, humor, and compassion.
Background
Karen discovered a love of performing though choirs, drama, and musicals as well as cross-cultural interests studying French and Spanish in high school. A passion for songwriting ignited when she picked up her father's guitar at eighteen and continued throughout her Spanish studies at CSU Chico and early teaching career compiling thirty original songs and leading music for church services.
Her own style began to blossom playing solo in small venues and farmers' markets. Literate lyrics pondering love, loss, and a deep affection for the beauty in mundane life began to command attention winning local songwriting contests and regular rotation on KZFR community radio.
Discography
Employing eclectic influences from Mavis Staples, Chet Baker, Gillian Welch, to Tom Petty, she produced a three song EP featuring Goodbye, My Beautiful Ocean, her 2007 first full-length release, Fabulous Junkyard, and 2010, Little Words and her songs appear on various compilations. 
The Show Goes On
Since her last recording, Karen deepened her skills by joining an acapella gospel choir memorizing dozens of classic spirituals and gospel tunes while focusing on the art of harmony, blending, and arrangement. Her last Chico music project, Afternoon Bloom, featured her renewed love of harmony performing with her twin sister in a full band.
June 2012 brought Karen to Sonoma County where she played regularly as a duo with her gifted guitarist husband, David Silva, and spent two years with The Bootleg Honeys trio fulfilling dreams including opening for greats like Ruthie Foster, playing the Kate Wolf festival and the Sweetwater Music Hall. 
2016 marked the start of a homeward focused season with the foster-adoption of a seven year old girl and full time teaching, leaving performing and recording in the rear-view mirror. These rich and challenging years strengthened her profound connection with writing as spiritual practice, resulting in poetry collections, blog writing, and the beginning of a memoir on teaching. Along with them came a dozen new songs featuring the same powerful vocals of past albums, but the added refinement and nuance of a singer and woman who's come into her own style and signature. 
What's Next?
Karen and former Bootleg Honey bandmate, Katie Phillips, are currently exploring new ways to combine songwriting, singing, and recovery/personal growth work in an upcoming podcast Supernova Support. The show hopes to inspire by sharing how songwriting has supercharged their own personal work as well as create an interactive space for listeners to engage their own creativity and personal insight through meditation, journal writing, and more. They aspire to expand the principles of the show into both online and in-person workshops, retreats, house concerts and more. 
---
DISCOGRAPHY/RADIO  iTunes/CD

 2005 Karen Joy Brown EP  listen

 2007 Fabulous Junkyard  listen

2010 Little Words  listen 
CAM-Chico Area Music compilation CD 2009,10
Upstairs at First St. Café compilation CD 2009
2013 Silver Lining back up vocals for Matthew Clough
KZFR-Face the Music
KKUP-Wimmins Music
KRCB- North Bay Songwriters
Spotify, Apple Music, Jango, Live 365
VENUES/PERFORMANCES
Festivals Chillith Fair 2006-8  /  California Nut Festival 2011 / Kate Wolf Festival 2017 (The Bootleg Honeys) / Railroad Square Music Festival 2017 (The Bootleg Honeys) 
Farmer's Market/Outdoor  Peacetown, Head West Marketplace, Sebastopol/ Julliard Park, Santa Rosa / Friday Night Live, Cloverdale (opening for Ruthie Foster) Santana Row, San Jose / Thursday Night Market, Chico, Elk Grove 
North Bay  Sweetwater Music Hall Mill Valley / Sebastopol Film Festival 2013 / First St. Café  Benicia / Ace in the Hole  Sebastopol / Gypsy Café  Sebastopol / Aqus  Petaluma / Hopmonk Sonoma, Sebastopol / Bluewater Bistro Bodega Bay / Aroma Roasters  Santa Rosa / Viansa Winery Sonoma /  The Epicurean Connection  Sonoma / The Bistro Hayward / Headlands Café  Ft. Bragg /Cambria Pines Lodge Cambria
South Bay  Monterey Live / Blue Rock Shoot Saratoga / Monsieur Beans Willow Glen / Frescaroma San Jose / Coffee Society Cupertino / Borders Santana Row / Red Rock Coffee Mountain View
Oregon  Jefferson State Pub Ashland / Jonny B's Medford 
Chico and Valley Area Venues Sierra Nevada Taproom / La Salle's / Monk's Wine Lounge /Red Tavern /Chico Women's Club / Duffy's Tavern / 1078 Gallery / Café Flo / Café Coda / Espresso Roma Davis / Borders Sacramento / Fox & Goose Sacramento / Vintner's Cellar Redding / Old Arch Brewery Lodi / Queen Bee Coffee Modesto / Pangaea Pub  Quincy