What a week. On the phone yesterday, a friend compared the struggle to create a new normal during this pandemic to a game of fifty-two card pickup. It certainly feels like playing without a full deck.
The last post showed the first attempt at a schedule to bring a little comforting structure to these strange days for my daughter: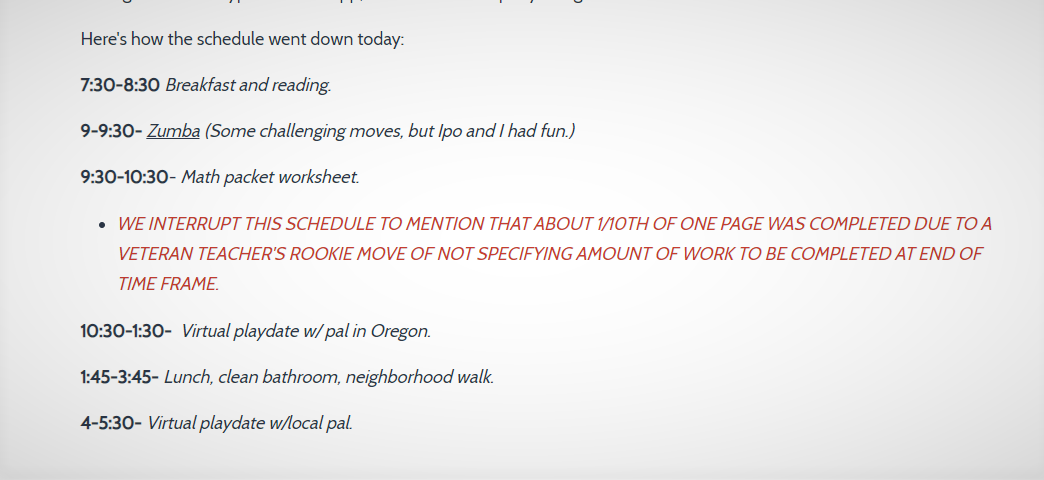 ...which evolved into: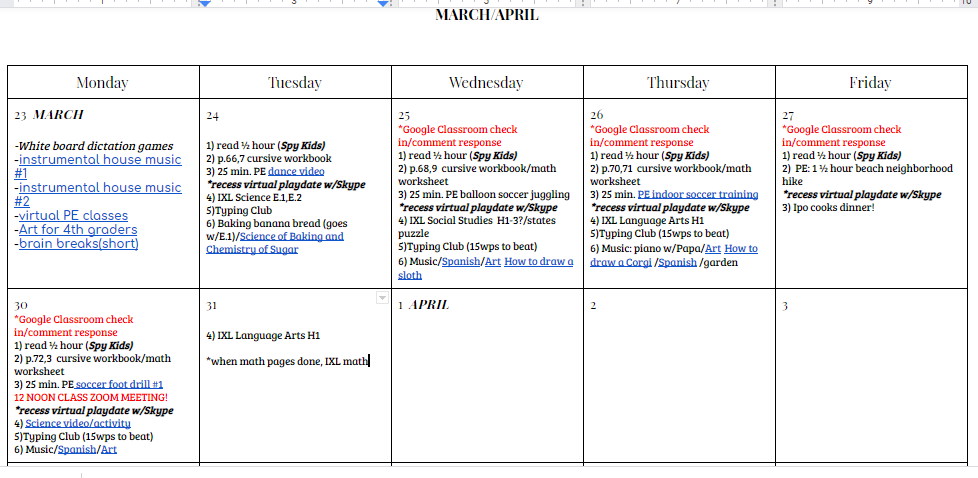 At the end of the last post, I mentioned that I hadn't been attending much to my own schedule. Do a little "compare and contrast":

I salute my attempt at paying attention to my personal life while playing that pickup game with online teaching, apocalypse grocery shopping, cooking, and cleaning. Just putting my priorities and ideas on a calendar gave them a little more weight. 
Now that we're all a few weeks into this mess, I remember recognizing for the first time the profound silence of the world grinding to a halt. What I DON'T want to do with these schedules is fill up that beautiful emptiness with a lot of something. To substitute the mania of full time teaching and parenting with producing amazing songs or poetry ASAP. I'm reminded of a poem I heard in one of Tara Brach's meditation talks:
Do not try to save 
the whole world 
or do anything grandiose. 
Instead, create 
a clearing 
in the dense forest 
of your life 
and wait there 
patiently, 
until the song 
that is your life 
falls into your own cupped hands 
and you recognize and greet it. 
Only then will you know 
how to give yourself 
to this world 
so worth of rescue.
-Martha Postlewaite
Maybe the expert move is to leave most of the cards on the ground for now.